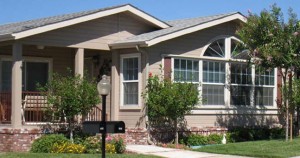 If you're shopping the market for a home in Orange County today, you've most likely considered all of your bases except, perhaps one. Most people looking for a home in Orange County will quickly compare new site-built homes in developments by builders such as Lennar, KB Homes or other well known builders and the resale market. They're quick to find, in today's market, that new homes and resales are pretty competitively priced but that many short sales, foreclosures and REO properties may need minor cosmetic work or, in some cases major repairs. As such, home buyers, when faced with the option, will often select a new home; there is little work to be done to make these homes livable. Many of the same buyers, looking for the best deal on the market, would be very surprised at what new factory built homes have to offer compared to site-built homes of the new or re-sale varieties.
In fact, new, high-end manufactured homes are esthetically barely distinguishable from their site built counterparts. Moreover, the quality of construction is often times equal to or superior as well in a new manufactured home. If you're looking to live near the coast or on beach front property, you'll notice a major price difference if you compare a new home on or near the coast with the total expense of buying an undeveloped lot on or near the coast and erecting a new, custom manufactured home. The savings, comparatively, is astounding.
New manufactured home builders provide far more than craftsman quality of construction these days. Unlike their site-built counterparts, factory built home builders can move bearing walls in their floorplans, add bedrooms, subtract bedrooms and, as well, add significantly to kitchen size. In your average new home tract development, there are few different models to select from and if you were to ask a sales person in the development if they could move a bearing wall they would respond with a look of puzzlement…it just can't be done.
Another advantage of from high end factory built developers is that they provide far more in the way of green living options than their site built counterparts. Take for example solar photovoltaic and solar thermal systems. In the site built home world, these are almost always after-market additions that need to be leased long term or purchased outright. These green options tend to be very expensive. Manufactured home builders are on the cutting edge of green home options because they can efficiently install them in a controlled factory environment for a fraction of the cost of after-market installers. These green home additions can help you eliminate electric and gas expenses to almost nil.
If you are in the market for a , it's wise to consider re-sales, new site built homes and manufactured homes as well. We are confident you'll find extraordinary value in the factory built home market and that , especially, are a very attractive buys.